Marsh Harbour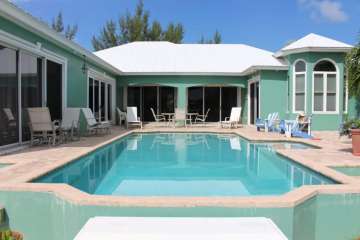 Marsh Harbour
Marsh Harbour is the hub of Abaco with an International Airport and International Cargo Port. The Airport is just a short flight from all major Florida cities and is serviced by several airlines. Private Charters are also available. New routes from other Atlanta and Charlotte are also operating at this time..
Real Estate. There are a number of waterfront neighbourhoods which allows for boating in the Sea of Abaco and fabulous views of the Outer Cays. Gated Communities, Private Homes, Condominiums, Town Homes, Private Islands and Vacant land give the purchaser many choices. Boat Harbour Hotel and Marina offers accommodations to include marina, restaurant, pool, tennis courts and more.
This town has all the conveniences of shopping. A large expansive grocery store (Maxwell's) as well as a big box type store similar to Costco or Sam's Club in the US, (Abaco Grocery). Bakeries offering the local Bahamian bread (and other treats) are a must when you come to Abaco. Also included, grocery, bakery, liquor, hardware and boutiques. There are restaurants in town including fine dining, diners and fast food.
The Abaco Club
The Abaco Club is a waterfront gated community within the Boat Harbour and Abaco Beach Resort. This small development is almost completely built out with most homes having direct waterfront access on the protected harbour which is separate from Boat Harbour. This area is popular with second homeowners and Bahamians alike as it caters to the avid boater with dockage for many up to 50ft.
Eastern Shores
Eastern Shores is a semi private neighborhood and is located towards the eastern end of Marsh Harbour (hence the name). It is a narrow strip of land with one access road. Most of it has fairly good elevation with water on both sides. The southern side is where most owners have dockage as it is protected by Sugarloaf Cay leaving a narrow passage way between the two land masses. This area is upscale and has a good potential for vacation rentals, permanent residences and investment. Many properties here go from sea to sea.
Pelican Shores
Pelican Shores is a peninsula across the harbour from town. The majority of properties have great elevation and most are larger than your standard building lot. Homes and properties here have waterfront on one side either Marsh Harbour or the Sea of Abaco. There is a small inland waterway called "Duck Pond" that has access to the Sea of Abaco. Pelican Shores is considered upscale and a great place to reside.
Sunrise Bay
Sunrise Bay is a gated community right in one of the best locations in Marsh Harbour. It is very close to everything including the restaurants and entertainment areas along the waterfront. This neighborhood is growing at a steady pace with upscale homes. Sunrise Bay has its very own marina where owners can keep their boats which has direct access to the Sea of Abaco facing Hope Town. The gas docks at Boat Harbour Marina are very close making this a very convenient place to play on the water.
Little Orchard
Little Orchard is located at the entrance to Pelican Shores and has several grid style roads creating this small neighborhood. Many homes have seen generations of families come and go. Little Orchard is a great location as it is just outside the main area of town making accessibility to the stores, restaurants, etc., extremely convenient. Many of the homes here have fruit trees such as Avocado, Dilly, Mango, Sour Orange and other Citrus types.
Great Cistern
Great Cistern is a small seaside development directly west of Murphy Town. This is a one road access neighborhood and has been popular for its higher ground which offers elevated views of the Sea of Abaco looking out towards Scotland and Guana Cay. This area is strictly residential with many of the homes directly on the waterfront.
Dundas Town
Dundas Town is one of the older settlements and is located just west of Marsh Harbour. Most properties here have been owned for many years. A new addition to Dundas Town is the government financed Central Pines where many lots have sold and quite a few homes, duplexes and triplexes have been built. There is also a brand new shopping center that was completed in 2014.
Murphy Town
Murphy Town is another one of the older settlements and is really an extension of Dundas Town. It is much the same as they both flow into one and another. Throughout both communities you will find small shops, take-out food suppliers, along with several gas stations and churches.
Marsh Harbour Homes for Sale